previous previous entry i talk about pon-ing school on friday, 3rd november. the reason is that my manager told me that my darling SUNYANZI is coming to MUJI grand opening as VIP guest, but in the end my manager called the day before and tell me that she's not coming. ohwell. a little disappointed and went to school as per normal.



HELLO PEOPLE! (:

i'm FUCKING

HAPPY

TODAY.

i actually wanted to keep this entry short with no words just picture but to prevent people from asking me the same question. i shall say it in a little detail.

was working today and i went to the toilet. when i came back and i went into the office to find stock. my manager SHOUTED to me 'SUN YAN ZI OUTSIDE LEH! FASTER GO SEE! BUT PLEASE DONT SHOUT!'

i was like WTH =.= how can this be possible. i searched around and colleagues pointed her to me. IT'S REALLY HER LAH!

the WHOLE MUJI PEEPS knew that i like HER LIKE FUCK. they keep ask me to get her autograph and go serve her and talk to her. but then my heartbeat was already racing like FUCK. my whole body temperature is already like

56.78

degrees LAH!

she wore a white dress with her hair tied. she was with a guy.

i didnt follow her much. when she was queueing up to pay for her items, my manager purposely open the cash till and LEAD HER to US. (cause she said before, she want to let me serve her) FREAK LAH. i was like STUNNNNNNNED. i ask for her autograph on my fanclub card.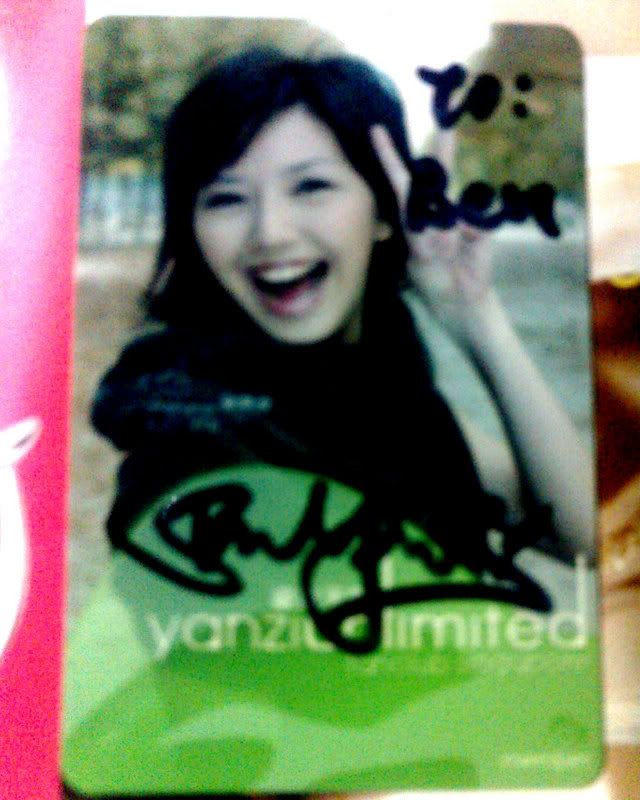 ERHERMM. TO BEN ONLY CANNNN~


i think i did tremble abit and i didnt pack properly. ohyah. she bought lots of plastic containers. that guy bought socks -.- she's nice. really. but i cannot take picture with her cause i'm working. nothing is perfect lahh. i believe there's still lots of chance in the future =D

we talk abit, we thank each other, we say goodbye.

i'm FREAKING HIGH LAH! FREAKING! no words can really decribe what i'm feeling at that point of time can! NO WORDS!!

but on my way home that time i go into my pocket and i bring out a MARKER! -.-
i forgot to put back the marker!!! HAHAHAHA.




i'm still as HIGH.

thanks to everyone in MUJI! thanks yanziunlimited peeps!

<3

my darling zi !!

-o-"